These past weeks have been like no other the world has seen. The COVID-19 pandemic has put a huge strain on everything and to varying degrees, disrupted our lives and continues to affect us all. More than ever we all need compassion, understanding, patience, gratitude, love, caring and beauty.
The Plein Air Washington Artists are currently having a show at the Scott Milo Gallery in Anacortes, WA, titled Little Gems. This is the 5th Annual Juried Member's Show, where the work could be any subject, 11″ x 14″ (28 x 35.5cm) or smaller, and painted either "en Plein Air" (outdoors) or in studio.
I'm pleased and delighted that three paintings I entered were accepted and are currently in the gallery and the entire show is online, on both the Scott Milo Gallery and Plein Air Washington Artists Websites (links and info below)!
These three works are from an ongoing series of Grand Canyon landscapes. While I enjoy plein air painting and working in a variety of media, these were all happily created in my studio using my own reference photos, sketches and memory with soft pastel on sanded paper.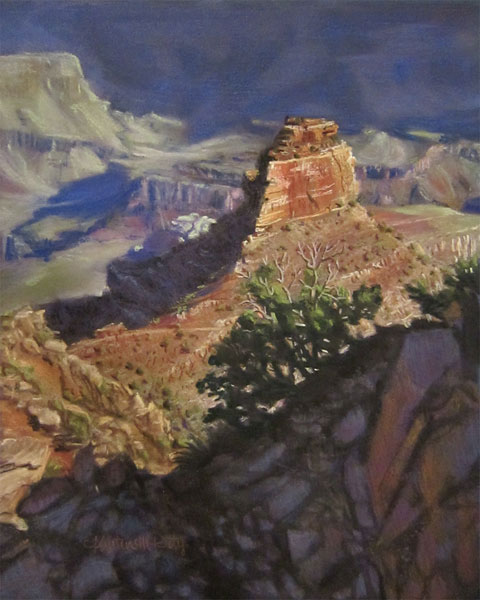 O'Neill Butte | 10″ x 8″ | Pastel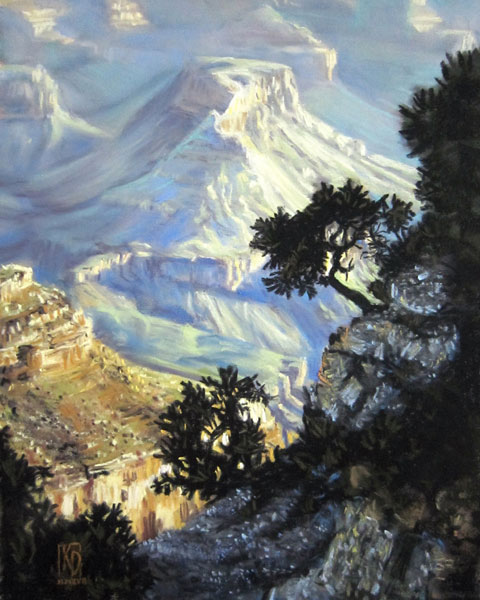 The Beginning | 10″ x 8″ | Pastel
As a Pacific Northwest native, I grew up surrounded by an abundance of beautiful scenery; towering and dense forests, water everywhere−including from the sky−and relatively young, tall snow-capped mountains. Grand Canyon is also a stunning and intriguing place, but is nearly a direct opposite; with sparse vegetation, harsh desert climate, and a deep chasm with multi-colored exposed layers of ancient earth. Perhaps it is this stark contrast that fueled my curiosity about it, the drive to hike to the bottom (twice!), and my desire to paint this challenging and inspiring landscape. 
Hiking in and painting the beauty of the canyon has had a profound effect on me and invited a study that became wildly fascinating. Questions surfaced about the how and why, the history, geology, stories and facts, and it became a springboard to ponder the big universal questions about humankind and our place in time.
Please take good care, and stay safe and well!
Best Wishes,
Kristen 
 ♦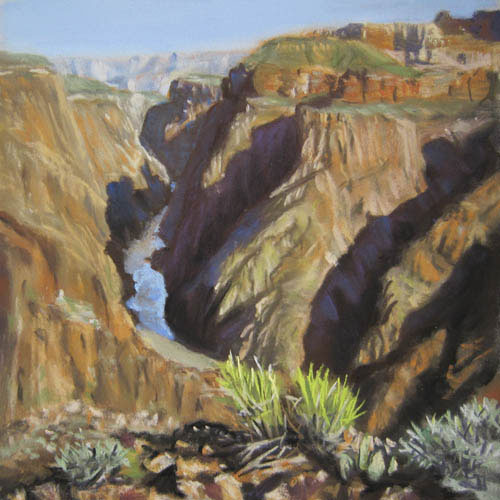 The Great Unconformity | 6″ x 6″ | Pastel
View the entire Little Gems show and consider making a purchase of your favorite painting to help support artists and the gallery:
Scott Milo Gallery is now OPEN (limited hours) and you can visit in person!
Website:  scottmilo.com
Please call, email or check the website for current information.
420 Commercial Avenue
Anacortes, WA 98221
Phone 360-293-6938
Email: [email protected]
Plein Air Washington Artists  Website:   Pleinairwashingtonartists.com